(This review might contain some spoilers)
In one of Chithha's earliest scenes, Easwaran (Siddharth), knowing that his niece Sundari (a fantastic Sahasra Shree) is hiding from him behind a tree, uses a mobile game to lure her out for him to playfully catch her. Later in the film, a pedophile, who kidnaps and abuses schoolchildren, uses the same technique to win the trust of a kid before abducting her. The human touch is one of our most basic and primal needs, but unfortunately, not everyone's touch has the same intent; SU Arun Kumar uses a slew of similar incidents to point out how analogous actions can mean something worlds apart when the objective differs. With such brilliantly-written and staged scenes along with a strong core, Chithha marks a befitting resurgence for both its director and lead actor.
Chithha (Tamil)
Director: SU Arun Kumar
Cast: Siddharth, Nimisha Sajayan, Sahasra Shree, Anjali Nair
Duration: 139 minutes
Storyline: A sexual abuser who targets children is out on the run, and it's up to a common man to save his kidnapped niece
Arun Kumar, right from his Pannaiyarum Padminiyum short film that he developed into a full feature for his debut, his sophomore flick Sethupathi, and his underwhelming third film Sindhubaadh, has proven time and again that writing relationships is his strongest suit. This prowess is on full display with Chithha, his first non-Vijay Sethupathi starrer. Here, he explores more than just the bond between a niece and her uncle (chithappa). Of course, there's the quintessential romance track, albeit with a twist, featuring Sakthi (Nimisha Sajayan, in what feels like an extension of the strong roles she's known to portray in her Malayalam films). But the film subverts the conventional 'establishing a new love track' trope which not only saves runtime, but also leads to a convenient yet unsettling reveal. What works more is the friendship between Easwaran and his cop buddy Vadivelu, and the cordial relationship Easwaran shares with Sundari's mother, his dead brother's wife (Anjali Nair).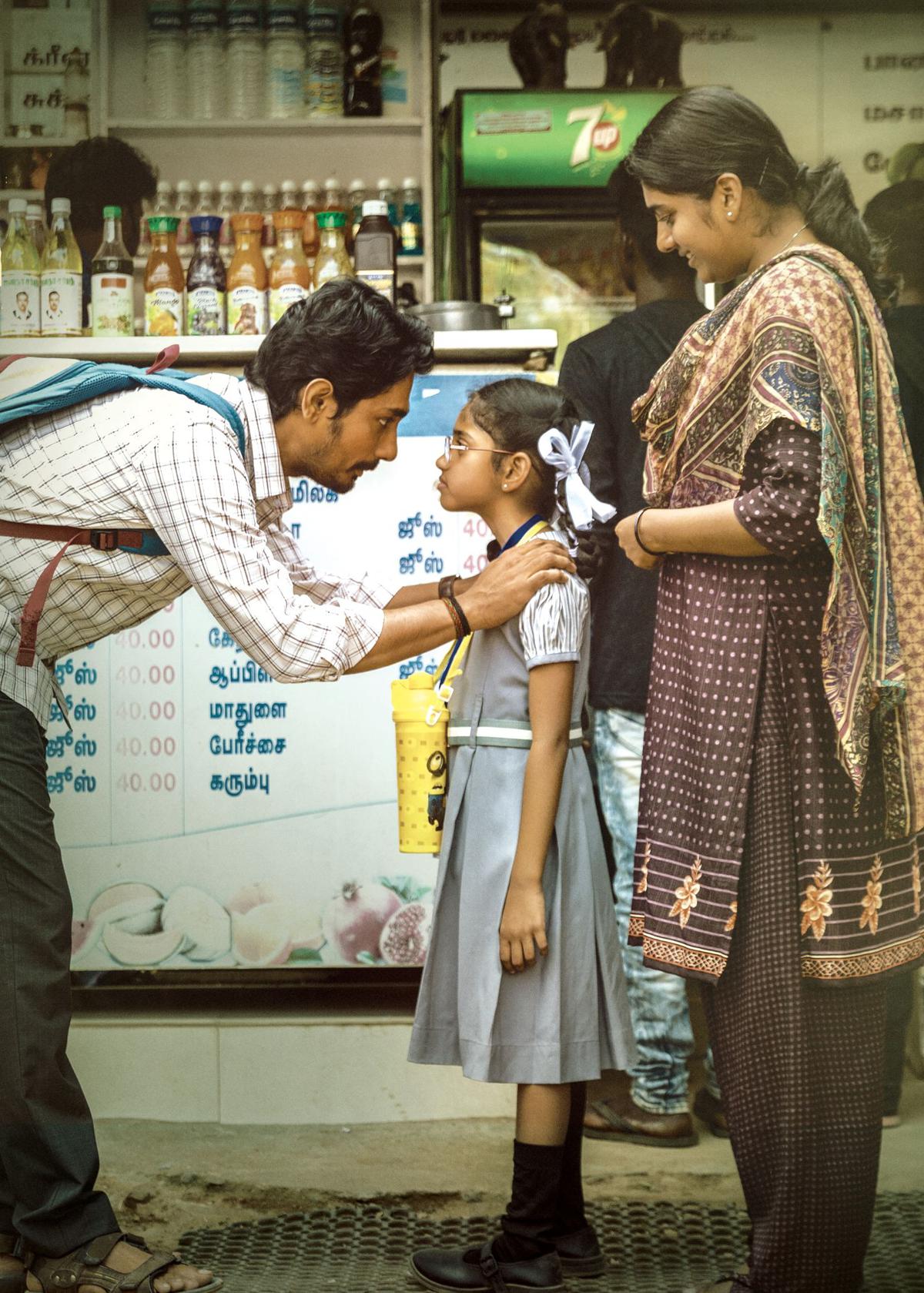 And when it comes to the relationship at the centre of the plot, they form some of the most beautiful and poignant sequences of the film. A simple scene showcasing Sundari sleeping next to her uncle often is used as a callback when Easwaran has to identify a charred dead body. He explains how he slept next to it and noticed a height difference, which proves that it's not his Sundari. Speaking of characters, Arun Kumar has painstakingly written even the tertiary ones with utmost care. For example, most of them who go out of their way to help Easwaran are parents who can't imagine themselves in his shoes. The film is also pleasantly filled with strong women characters; those who'd take charge even when the men are down and weeping over their circumstances.
A study tells us that 90 per cent of child victims know their offender, with almost half of the offenders being a family member; Chithha, like last year's Gargi, reiterates that the horrors lurking around our children are closer than we believe. What makes the depiction of abuse more hard-hitting are the sequences that happen behind closed doors, letting our horrid impulses fill in the blanks. No wonder it makes your skin crawl when the predator's provision list consists of baby food, lollypop and petroleum jelly. The film also tries to realistically capture the legal proceedings of a POCSO case with a spotlight on how cops solve (or try to solve) them.
Chithha, as a script, offers two major conflicts. One is when Easwaran is accused of sexually abusing his niece's classmate Ponni, where some excellent POV cinematography and slick editing make us almost believe that our protagonist has committed something heinous. The transition in the supporting characters when there's an iota of doubt towards Easwaran — and how he reacts to them — showcase the actor in Siddharth, which we dearly missed in his last few films. Another conflict comes in when a serial sex offender kidnaps Sundari. Arun Kumar, who proved his mettle in drama with his debut film and tried his hand at thrillers in his next two films, blends both those genres into Chithha and pulls it off almost convincingly; if only the progression had been more organic.
When Sakthi opens up to Easwaran about her sexual abuse at the hands of a relative, Easwaran retorts with where he can find that perpetrator instead of asking how she overcame the ordeal only to be schooled on how a violent reaction of his might turn her ordeal into her identity. The splendid performances from everyone in the cast aside, it is messages like these that make us forgive the niggles and celebrate Chithha as one of this year's most important films. Talk about good touches!
Chithha is currently running in theatres