On an unseasonably hot and sweltering October afternoon, the Kolkata tram on Route 24/29 rolled out of Tollygunge Tram Depot, its front bedecked with the trinayani (three-eyed) face of goddess Durga. As it trundled past curious onlookers, on its way to Ballygunge, its brightly painted cars encapsulated the emotion Kolkatans revel in this season — pujo aschay (the pujas are coming).
It's a feeling Asian Paints knows well, too. (For 35 years, the paints MNC has handed out Sharad Shamman, an award for the best Durga Puja pandal.) This year, they decided to up the ante. To celebrate the UNESCO heritage tag for Durga Puja and the 150th anniversary of the city's tramways with art, they collaborated with St+ART India Foundation (through its XXL Collective, which works with a global network of artists) and the West Bengal Transport Corporation, to redo two cars of the tram — both inside and out.
Hop on the streetcar
The first one pays tribute to the pujas: with images of percussionists playing the dhak, sindoor khela (vermilion game), and the artisans of Kumartuli moulding the goddess. "The second car is painted with Bengali motifs like the Bengal tiger, Bankura horse, shiuli flowers, and chhau masks," says artist Sayan Mukherjee (@sayanart), who worked on the exteriors with his team. "We took nine days to paint the tram," adds the artist, whose social media is now flooded with notes of appreciation.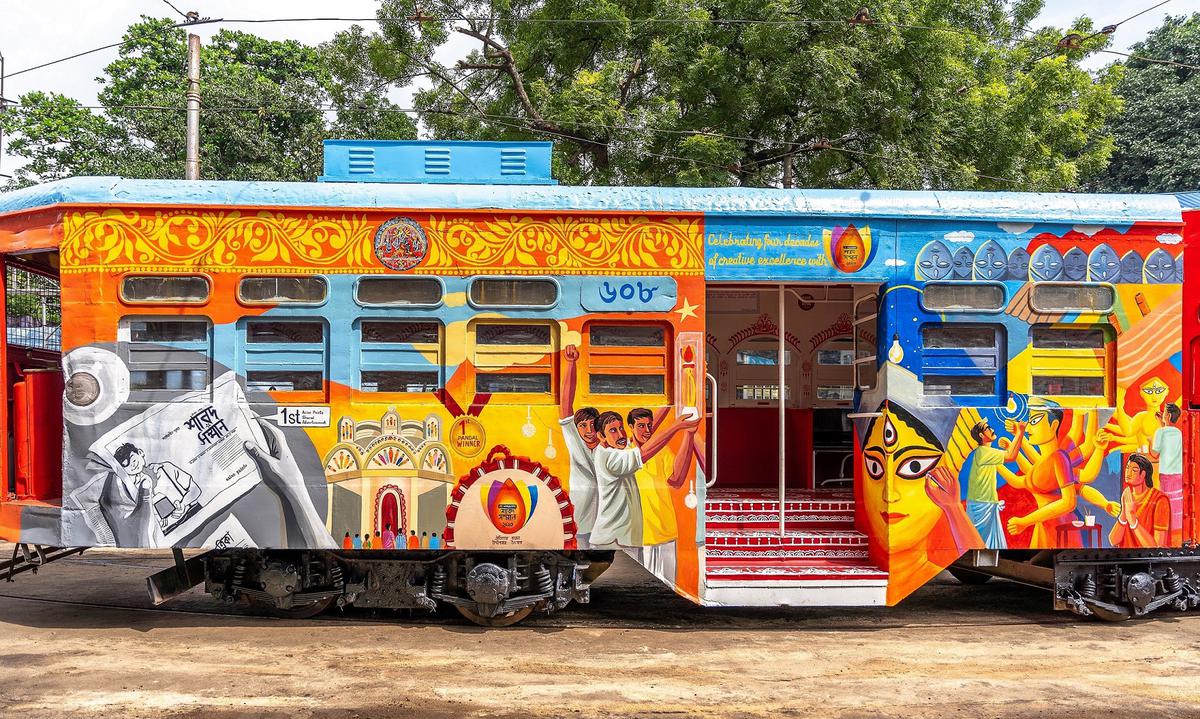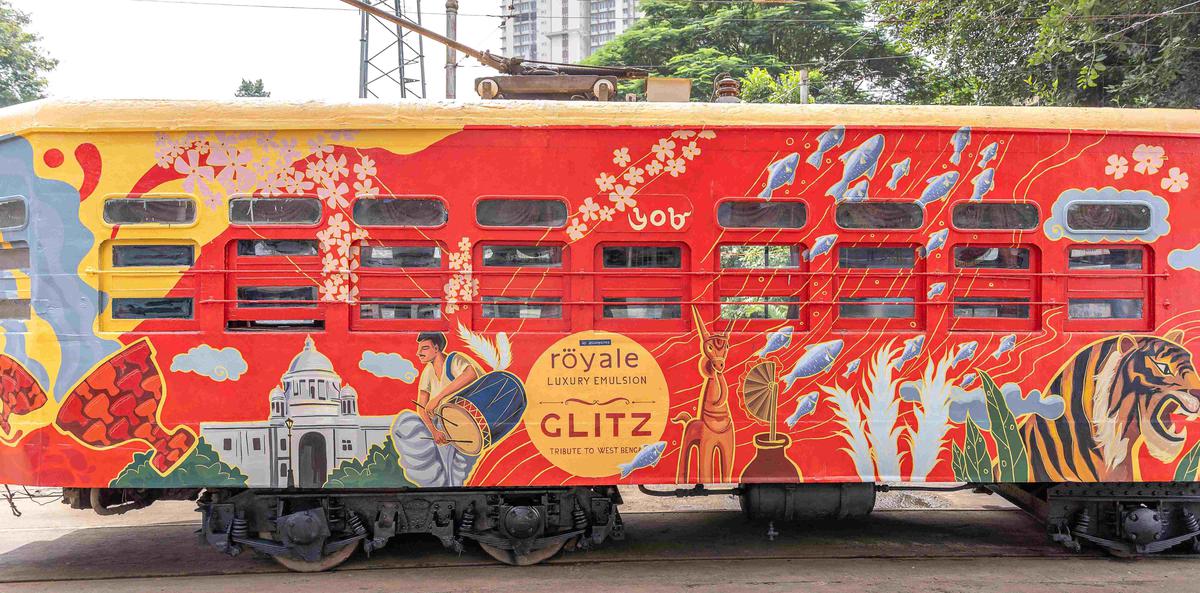 Architect and urban designer Abin Chaudhuri's Abin Design Studio did the interiors. "Trams are such an important part of the urban fabric of Kolkata. So, it was a project that I immediately agreed to [with less than three weeks' notice]," he says, adding, "I have always believed that art and design best prove their function when there are multiple interactions with the public, and this was one such example."
While the first car was redone with beautiful alpona on red painted floors, evocative of the rice flour paste designs made on the red oxide floors of Kolkata's old bungalows, the second one focused on luxury. It has wallpapers from the city's own designer, Sabyasachi Mukherjee, on the ceilings, velvet drapes, and gold and faux crystal light fixtures.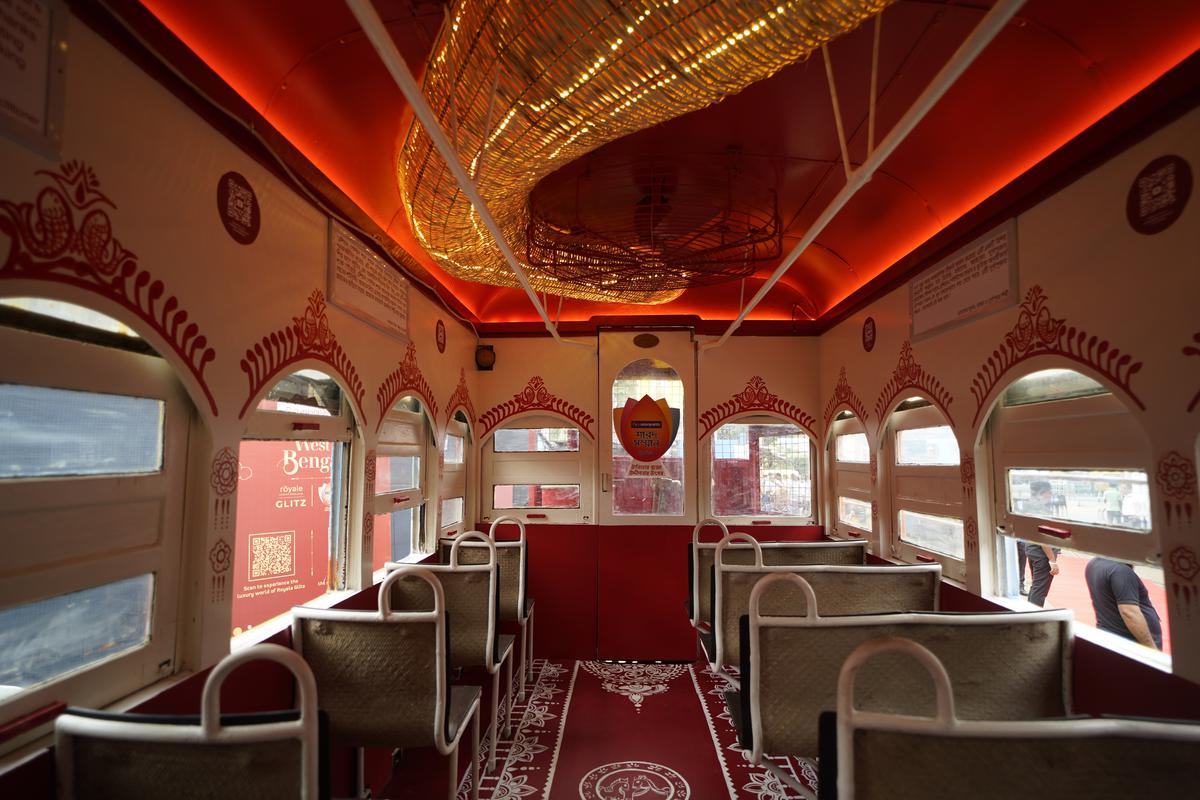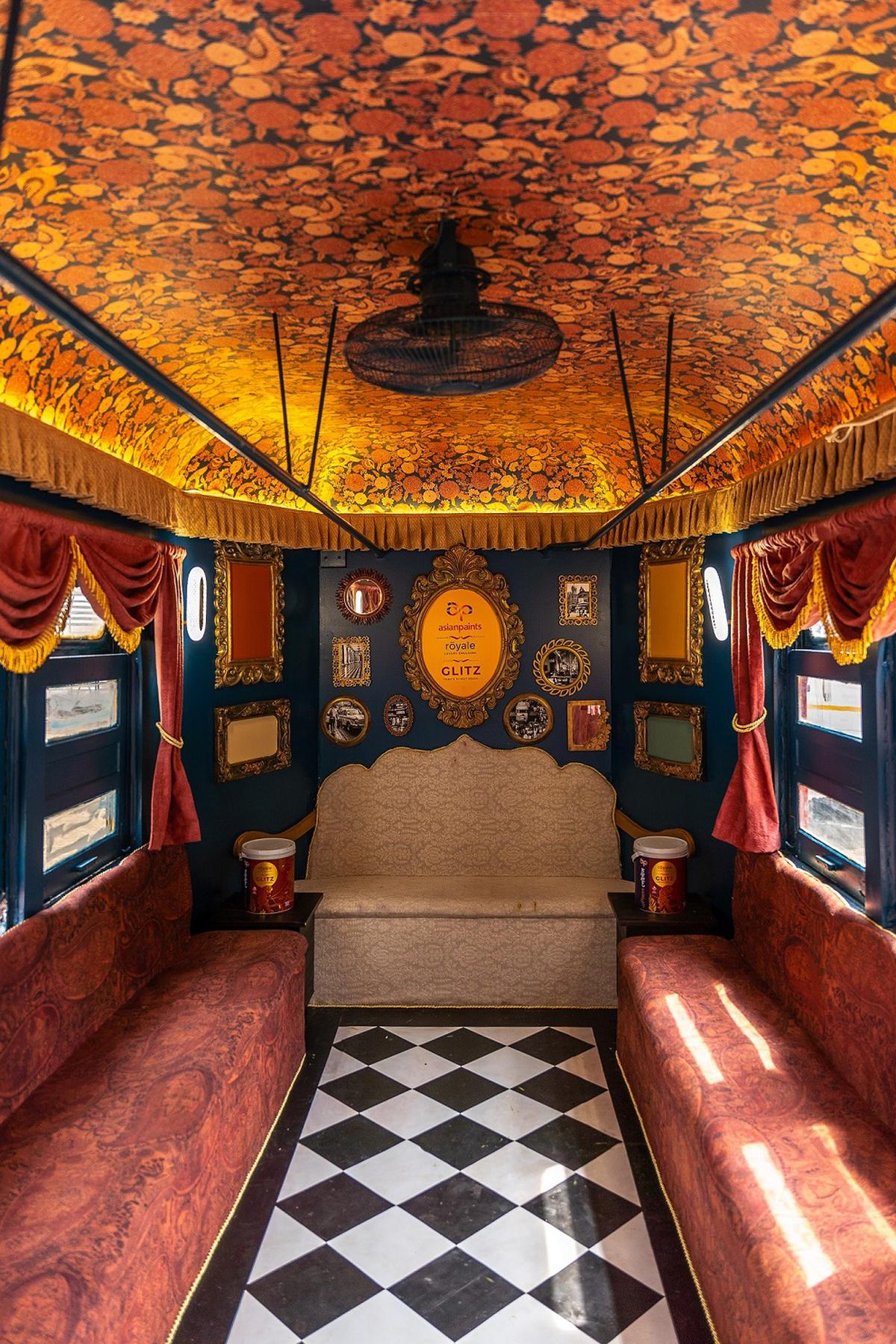 Tracking public art in the city
Kolkata is no stranger to art in public spaces. Sayan, for instance, has been part of several projects. The Cricket Association of Bengal commissioned his work for the walls outside Eden Gardens; his art also adorns many pockets in New Town, the IT hub of the city.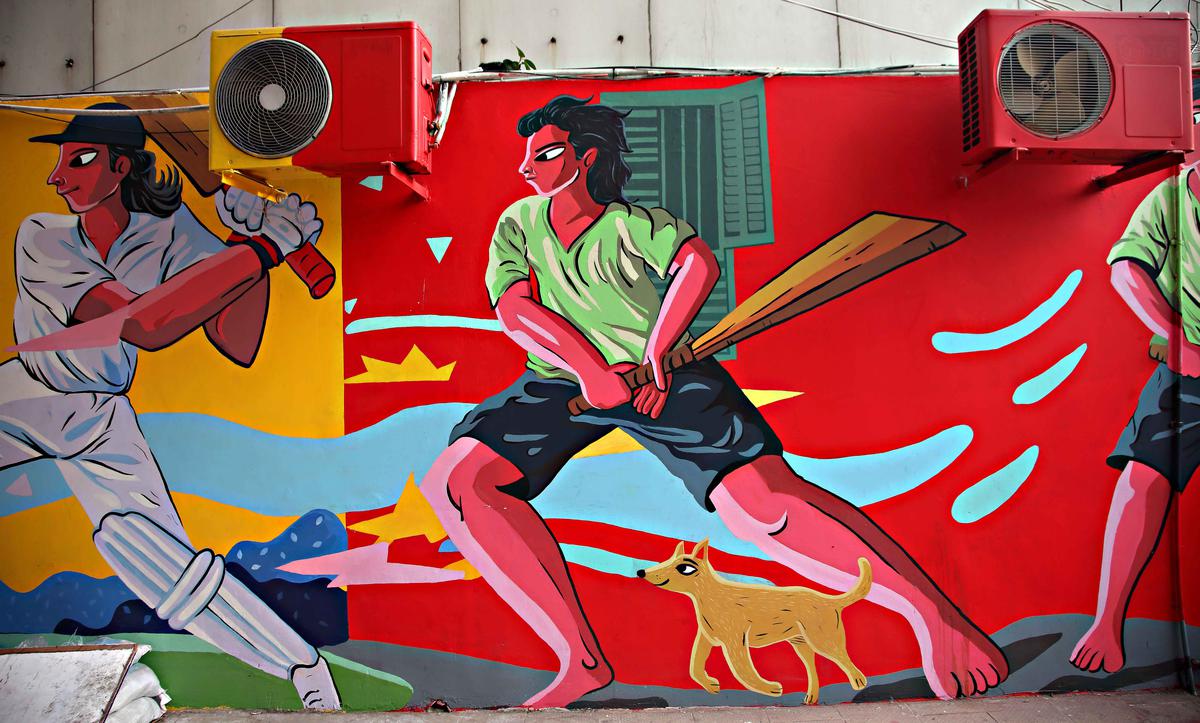 "The public have an immense aspiration to understand art and design, and its presence in a public context can help create this awareness," says Chaudhuri, whose 2018 pandal — created for club Behala Nutan Dal's puja — is now an open-air installation titled Unbox in Kolkata's New Town. He also collaborated with activist and writer Mudar Patherya to paint electric feeder boxes: a mix of famous Kolkatans, iconic film posters, and graphic forms.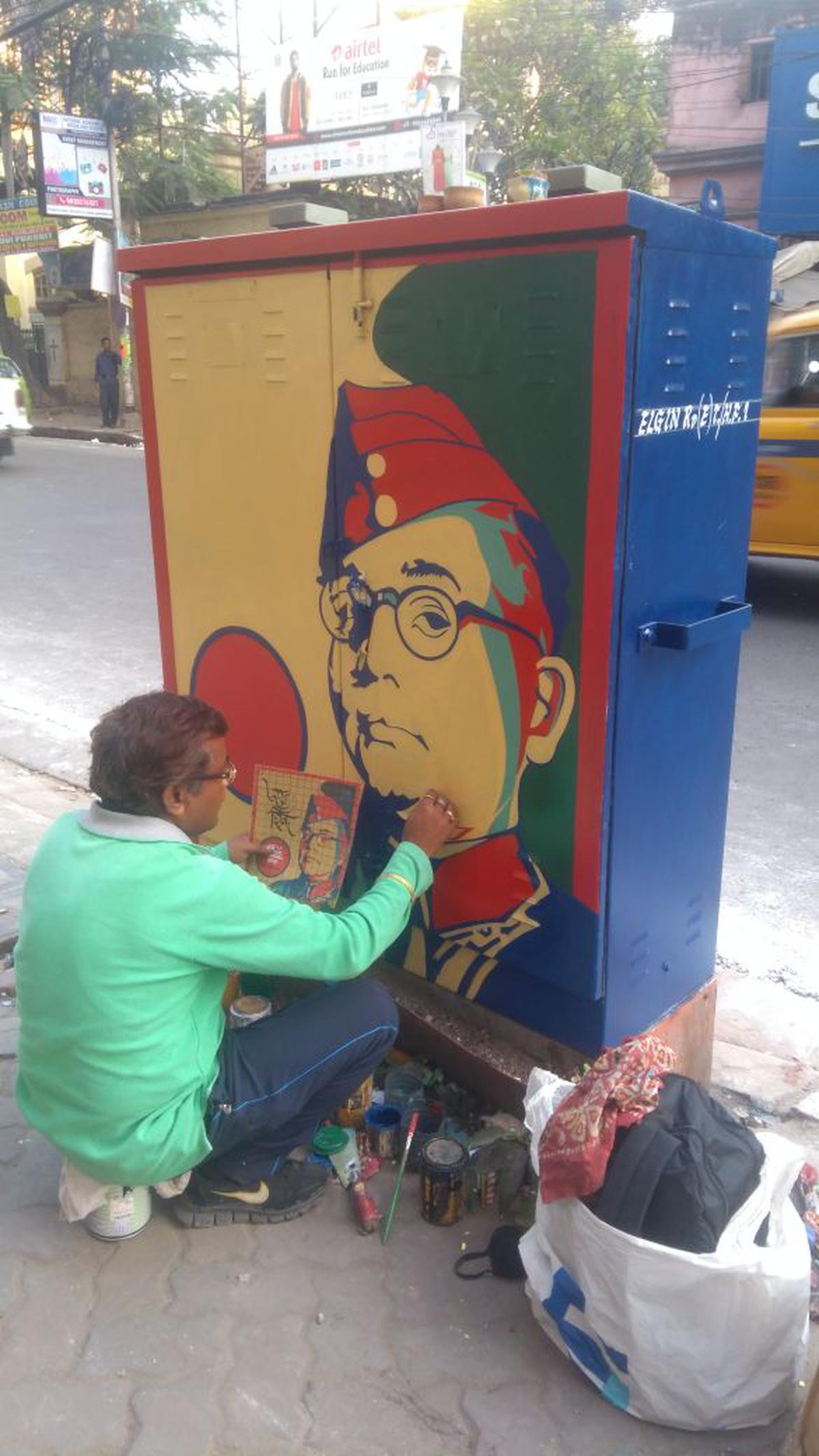 St+ART's Kolkata chapter
On the tram's Tollygunge to Ballygunge route is one of St+ART's three projects in the city: a giant mural of Satyajit Ray painted by Chennai-based artist A-Kill on a metro railway building a stone's throw from the Tollywood film studios. The second, painted by artist Afzan Pirzade, is on a Patuli sub-station and pays homage to Kumartuli's potters and artisans. Spot the third project, by artist Blaise Joseph, on the Howrah Riverfront across the Hooghly River, depicting the Howrah bridge, railway station, yellow taxis and quirky Kolkata motifs.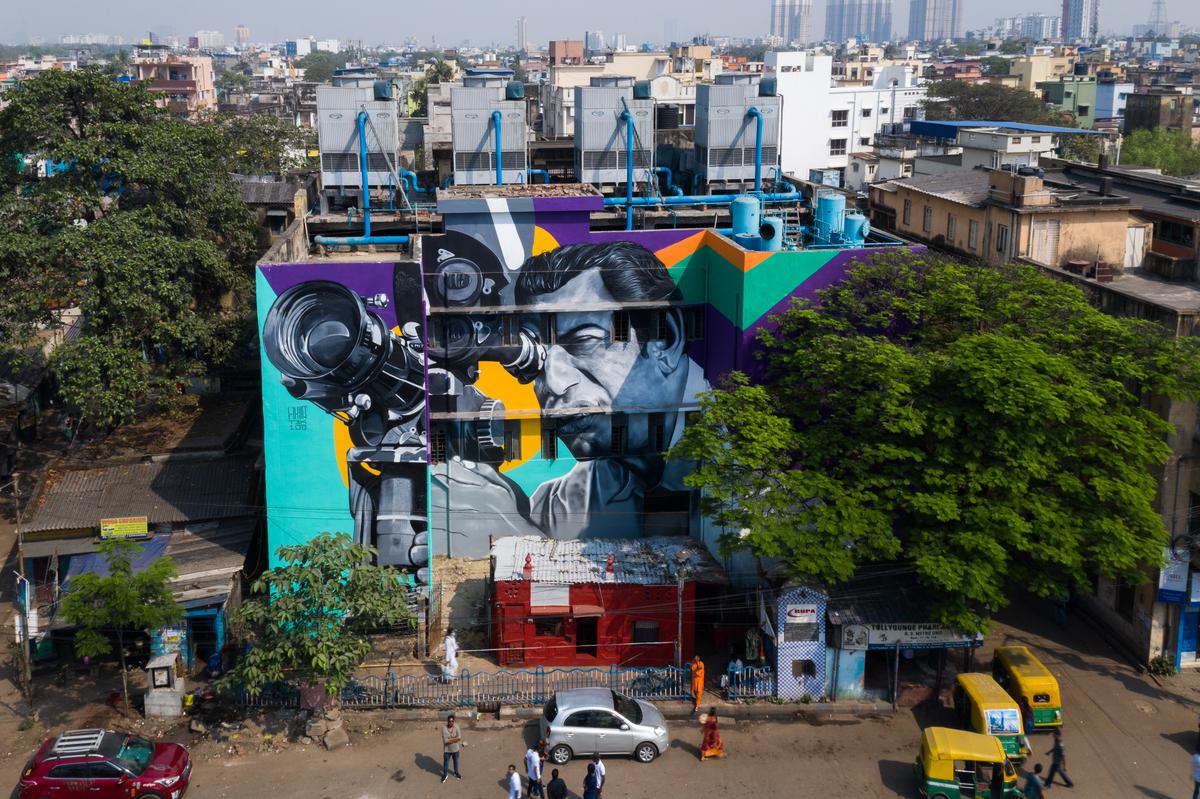 Hindustan Park in Gariahat often hosts live performance art. In 2020, Pickle Factory Dance Foundation and Artsforward collaborated on Passing Through, a masked live dance installation "where dancers dressed in classical costumes" performed a quiet ceremony of mourning. Paramita Saha, director of Artsforward, says, "Performance art when presented in public spaces always creates more dialogue since it is not a static medium."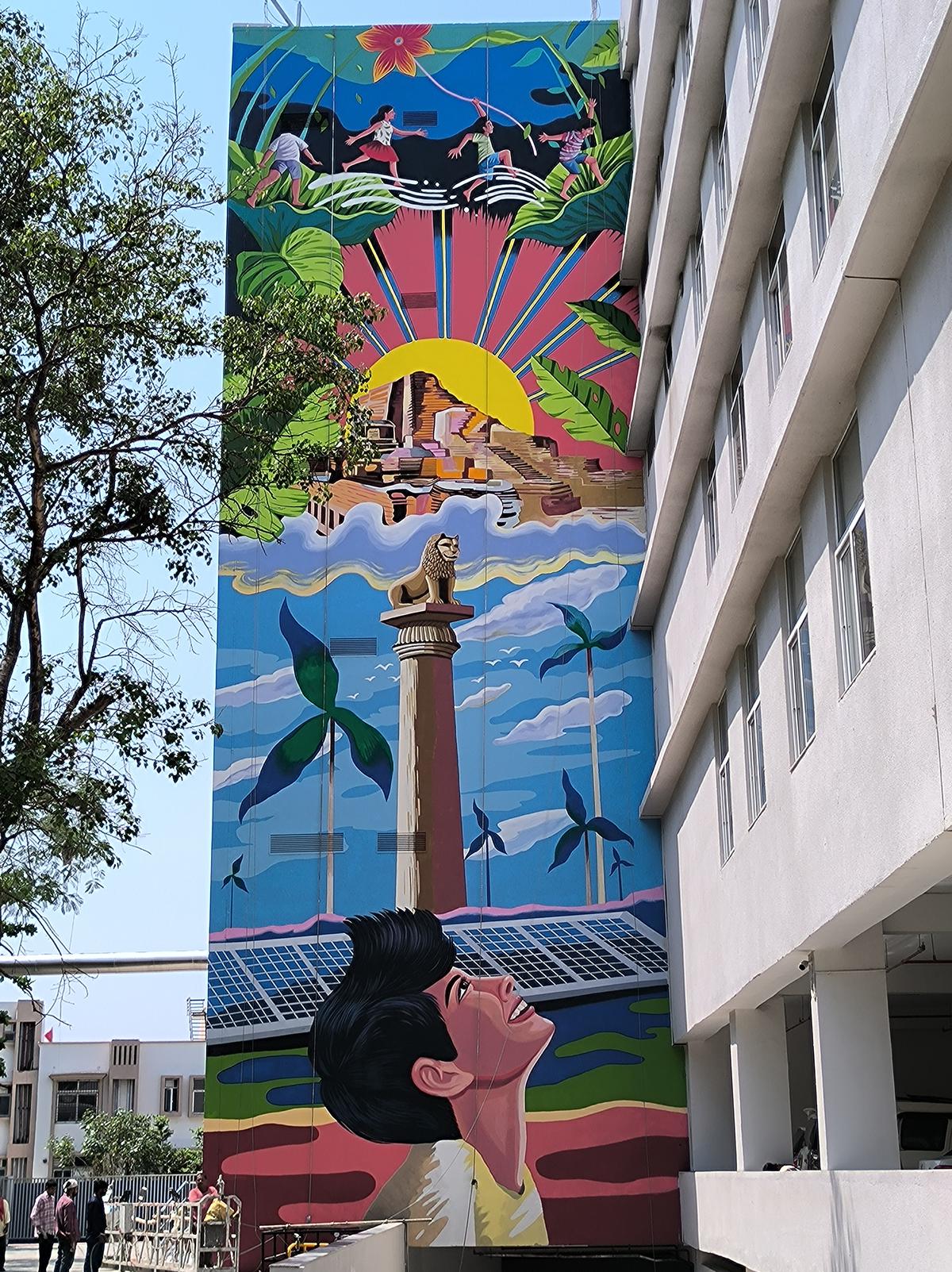 But the greatest example of art in public spaces is Durga Puja, feels artist Sanatan Dinda. "Many would argue that since these forms of art are religious, they are somehow less than the ones seen in galleries," he says. "When visitors go to see Michelangelo's frescoes from the Old Testament in the Sistine Chapel, it is no longer just religion but art. I think the same applies to our pujas." And one of the best ways to catch the many pandals this year is to hop on the painted tram, which will pass many of the popular spots.
The tram will run till the new year.
The writer is an independent journalist based in Kolkata.